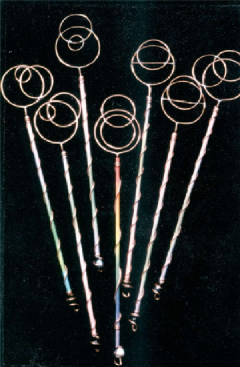 2 dimensional bubblewands- shapes and sizes $9.99ea
All bubblewands are available in a variety of different colors and shapes, approximately 18 inches tall.The designs or shapes at the top of the wand are about 4 inches wide.This picture displays a few of our abstract designs. We also have many distinct shapes. such as :
frog, bear, alien, cat, butterfly, dragonfly, spider, dolphin, heart, flower, cactus, angel, cross, star, moon. yin-yang, sailboat, fish, shamrock, dogbone, diamond, eye, mountain-moon, dog, duck, loon , rabbit, mushroom, top hat, space shuttle, balloon, lightning bolt, tulip, music note, treble clef, cup, dove , tree, bow, girl, boy, girraffe, bunny, wine glass, plane, turtle, sheep, shield and love hand signal (if you wish to request a certain shape ,please specify with your order, or we will send our most popular abstract bubblewands)
We do logos and custom designs!
| | |
| --- | --- |
| | please add 10.00 for shipping and handling costs with your entire order. thank you |